Indie game development duo Team Meat have a new game in the works. Designer Edmund McMillen announced that as they were working on the next Super Meat Boy for iOS and PC, they began making another title called Mew-Genics.
According to their blog post, Team Meat created the seeds for Mew-Genics during a weekend game-jam they were doing to take a break from making the new iOS version of Super Meat Boy. "As some of you know Tommy and i have been working on a new super meat boy for iOS and Pc for the past few months… but a month or so ago we decided to do a little game jam over a weekend and fell into a totally out of left field project we call", Edmund McMillen wrote on the Team Meat blog.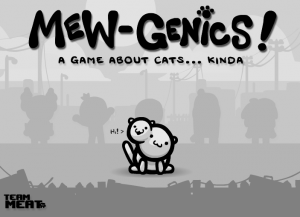 "Mew-Genics is by far the strangest project I've ever worked on.. and that's saying something. Tommy and i are very happy with how development has been going on it and decided that Mew-Genics will be the next official Team Meat game. We don't want to spoil too much here, but we can say the game will be randomly generated, strange and involve cats".
Team Meat will unveil more details about Mew-Genics, including the platforms it will launch along with more gameplay details and screen shots, soon.