TopWare Interactive announces the new release date for the space combat simulation "Iron Sky: Invasion" from Reality Pump. The game will now launch on November 22nd on the PC, the PlayStation 3 and the Xbox 360.
Alexandra Constandache, CEO of TopWare Interactive: "After thoroughly testing the game within the community, we've listened to the feedback and have decided to implement some positive changes that will allow us to retain our high quality standards. We all here at TopWare Interactive and Reality Pump are huge fans of space combat simulations and want to combine the humor and bizarre world from the movie "Iron Sky" with great game features."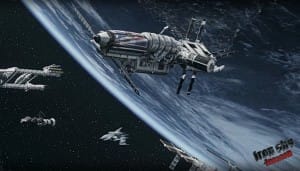 Iron Sky: Invasion puts the player in the pilot seat of defending Earth from a sudden Nazi invasion – from space. Gamers have at their disposal a variety of experimental, secretly manufactured space fighters, and are tasked with keeping these Moon Nazis off our beloved Planet Earth.
Iron Sky: Invasion is powered by the Grace2 engine which promises to deliver beautiful graphics, high-speed battle sequences, and the ability to show the game in stereoscopic 3D for all players with 3D TV's and monitors.