Square Enix today announced that its award-winning undercover cop drama Sleeping Dogs will receive the Year of the Snake DLC due sometime in Q1 of 2013 on the PC, PS3 and Xbox 360.
In Year of the Snake DLC Wei Shen's story continues as he rejoins the ranks of the Hong Kong Police Department in a series of new missions set immediately after the main game. A vicious end-of-the-world cult is taking root in the back streets of Hong Kong, the Cult of the Snake. With an arsenal of weapons, including teargas guns and electroshock pistols, new outfits and abilities, Wei must enter a race against the clock to bring the cultists to justice before Judgment Day.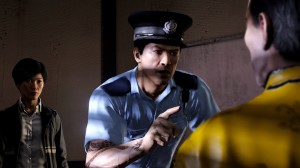 "We felt we had a hit on our hands in Sleeping Dogs and to be the UK's best-selling new IP of 2012 is a fantastic achievement," said Lee Singleton, General Manager, Square Enix London Studios. "Our goal was to set new benchmarks in the open world genre with best-in-class combat, driving and story-telling, and hopefully gamers feel that we've done that with Sleeping Dogs. We will continue to do that in 2013 with the downloadable content still planned for release."
Sleeping Dogs launched with a commitment to six months of add-on content and over the coming months the campaign continues with two more upcoming DLC packs also due in Q1. The Law Enforcer pack features crime-fighting outfits, weaponry, and vehicles, while the Wheels of Fury pack features the "weaponized supercar" DZS-90.