Valve's new trading card game, Steam Trading Cards, exits beta and becomes available to all on Wednesday, June 26. The Steam Trading Cards system was announced last month and, since then, it went on to become quite popular, as it rewarded users with cards that could be collected, traded, or sold via the service's Market.
Steam Trading Cards are virtual cards earned by playing games on Steam that can be combined into game badges. Up to half the card set is dropped through game play, the other half is earned through your collecting prowess.
Once you've collected a set of cards you can craft them into a game badge. Like the current badges, they are tied to your account and are shown on your profile. Unlike the current badges, crafting games badges earns you tradable items like emoticons, profile backgrounds, and coupons. Level up your badge by collecting the set again and earning more items. Leveling up earns you non-tradable items like profile showcases, extra friends list slots, and more.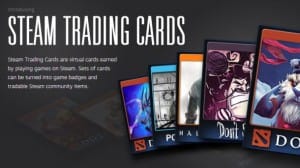 Valve promised that new features will be added, while existing ones will be tweaked after the upcoming launch so that users will have a great time earning and using cards. "We'll be continuing to iterate on existing features and add new ones after the release. There are a few things we have talked about previously that we really wanted to get to, that have now been pushed till post release – Trade Offers, and the Card Binder. They will still get done we just don't have an exact timeline on that."
The studio will fix any bugs and glitches until the official release this week so existing users are urged to give feedback and comments.