Publisher Lace Mamba Global have today announced the retail Collector's Edition for Krater, their lush post-apocalyptic top down action RPG, based on gameplay elements such as crafting, exploration and consequence.
The Krater Collector's edition will include the full game, a Dr Cerberus special character pack, the Krater soundtrack-CD, a 40-page "The Art of Krater" book, designed exclusively for this retail version of Krater, and a double-sided poster.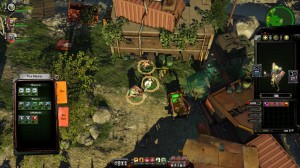 Krater, developed by Swedish indie developer Fatshark, takes place in a lush post-apocalyptic game world, where a bomb has forced cities and even nations to exist around a gigantic crater. The center of the crater is an abyss that stretches deeper into the earth than anyone has ever been able to dig. One of your main goal as a player is to build your team and and try to get as deep as you can into the underside of the Krater. During you quest you'll meet the several joinable factions likefree-diggers, bands of fortune seekers who compete with each other to excavate valuable pre-armageddon technology from an endless system of tunnels, caves and bunkers, called the Underside.
Krater retail Collector's Edition is priced at £19.99/€19.99 and will launch on August 17th, 2012 in the UK and on 31 August, 2012, in Germany, Austria and Switzerland. A Steam version of the Krater is also available for 13,99€.