Thomas Was Alone, Mike Bithell's BAFTA-winning platformer about friendship, freedom and jumping, arrives on PlayStation 3 and PlayStation Vita today in Europe. The game will be released alongside a new DLC level pack, Benjamin's Flight, which provides a short back-story to the events of the main game and features three new characters, a familiar face and an exciting new character ability.
Mike Bithell commented, "I am incredibly proud to see Thomas getting a mainstream console release and the guys at Curve Studios have done an awesome job making this version special. Thomas took over my life for the last two years so it's great to see it reaching an even wider audience".
Curve's managing director Jason Perkins added, "It's very exciting to be releasing Thomas into the wild on Vita and PS3 at last. This feels like a big step as it's the first game we've released as a fully independent publisher. It's been great collaborating with Mike, and our team has worked incredibly hard. I'm really proud of what we've achieved."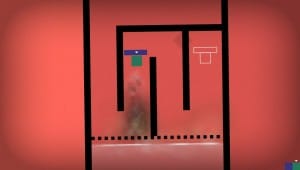 Thomas Was Alone is a platformer where the goal is simple – get all the characters to their exit portals. You'll find that becomes increasingly harder than it sounds. Use their skills in tandem, be it flotation, anti-gravity, bounciness or, well, jumping slightly higher. Along the way, you'll hear an awesome story narrated by Danny Wallace (Assassin's Creed) and a score by David Housden.
Thomas Was Alone will be available on the PSN store priced £5.99/€7.49/$9.99, and the DLC level pack Benjamin's Flight will be priced at £1.99/€2.49/$3.49. PlayStation Plus subscribers in Europe will be able to download Thomas Was Alone for free upon release.