Arcen Games entered the PC indie scene in 2009 with their cult classic AI War: Fleet Command. They continued with The Zenith Remnant, the first full expansion for AI War; Tidalis, an innovative block-based puzzle with casual appeal and hardcore depth; and Children of Neinzul, a micro-expansion for AI War with all profits benefiting the Child's Play charity, of which Arcen is a platinum sponsor.
Their latest effort is A Valley Without Wind, a game released on April 24, 2012 that defies genre stereotypes, and is described as "a 2D sidescroller without a linear path. An action game with tactical combat and strategic planning. An adventure game that lets you free-roam a vast, procedurally-generated world".
 "We wanted to make an adventure game in an interesting world, and we wanted to have choices matter over the long haul. We also wanted tactical depth to the combat. So we started prototyping ways of accomplishing those goals, and just kept refining that — with massive help from our playerbase during beta — until things felt right. Fifteen months of that was a long road, for sure!" said Arcen Games Founder, Chris Park ahead of the game's launch.
On paper there's a lot to love in A Valley Without Wind, but is the game the rewarding experience it promises to be? Read on to find out.
Sound and Vision
The game's 2D retro visual style delivers vibrant and clear colours and smooth animations. The changing weather conditions in the game's levels add points to A Valley Without Wind making it more realistic. What is also quite enjoyable is the variety of the non playable characters. Through out th game you will have to face enemies in the shape of robots, androids bats, rhinoceros, and many others, each with its own strengths and weaknesses.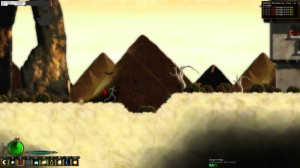 What kind of disappoints is the game's music. When you first hear it you it will remind you of the good old era of the 8-bit games, however after a while you'll find out that even though the musical themes are interesting they are also quite repetitive. For a game with the depth of A Valley Without Wind, we were expecting something more expansive.
Gameplay
In A Valley Without Wind you travel alone or with friends across an ever-expanding world of dangerous creatures, powerful magic, high technology, and mysteries. You must complete a variety of missions to earn arcane rewards, or roam the wilds to uncover secret missions and stashes of magical loot.
You can customize your characters with unique combinations of enchants and spells that change how you move, jump, and fight. Or rescue people and bring them back to your settlement, recruiting them to help you in return. You choose how to play, and the world adapts around you.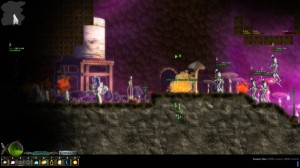 A Valley Without Wind doesn't have a story that you should follow, the only info you get is from some notes in the beginning that explain that you live in the year 888 and that an apocalyptic event has made every era exist in the world of Environ. As a result you'll find yourself jumping into futuristic buildings, crawling into dungeons and smashing blocks in Mario style, or fighting against rhinos in huge green lands, Your goal is to defeat the evil lord who oppresses the Environ, polulation, only after you gain the appropriate powers and objects to achieve your goal.
When you begin A Valley Without Wind you get to decide about the World's name (if you don't like the default), the level of difficulty in the fights, the number of spells you are going to use, and how much platforming you like. After you do all the above you then get to choose the protagonist out of six playable characters.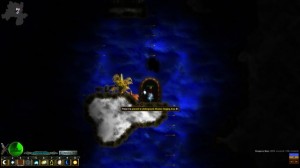 As we have already mentioned in A Valley Without Wind you can go wherever you desire and find many secret areas you must explore in order to find the nessesary powers and spells that will help you improve your character and the way he faces his opponents. However, you're never lacking structure or goals, thanks to the things you should do' section in your in-game planner. This simple bit of guidance is terrific, listing out a selection of objectives it'd be wise to pursue, but not actively forcing you into any of them or dictating which order you have to do them in.
Every world in the game has a level scale of 5 which means that as you constantly upgrade, enemies become more difficult, but also more resources to help you upgrade. You can also choose not to upgrade your world and just navigate in the map unlocking achievements a secret missions from the hundreds that are randomly generated in the game and come in multiple forms, including boss towers, stealth assassinations, and battlegrounds.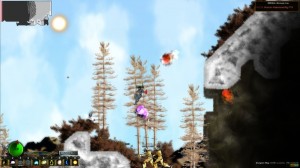 What is the main objective in the game is to defeat the bad Overlord and his four guardians. The good news is that you have plenty of things to blast them with. One of the big selling points of the game is that there is a huge variety of spells. You can throw rocks if that's your thing, or you can fling fireballs and shoot lightning bolts. Even so in practice you'll likely only use about three good ones most of the time and switch out when you find enemies with immunities to certain spells.
At times, enemies that weren't immune before become immune for the rest of the game. Kill enough bats, for example, and all future bats become flame-immune "fire bats," which means that calling down a meteor shower on them has all the effect of using a feather to stop a freight train. Control-wise the game feels accurate, suited for fast paced, tactful combat.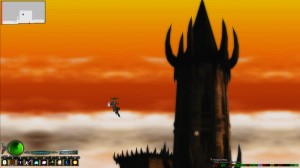 A Valley Without Wind also brings full co-op which is much the same as the single player mode. Enemies are a little tougher, and it was possible to be undertaking completely different missions on opposite parts of the map at the same time. However we feel that this is not the purpose though, which is obviously to make the game more of a social experience and open new tactical avenues in combat.
Conclusion
Because A Valley Without Wind is an open world and randomly generated game, the gameplay remains simple, without much variety and challenges. Any element that could make this game more complex, like the presence of timers, difficult puzzles, and other mechanics, do not appear.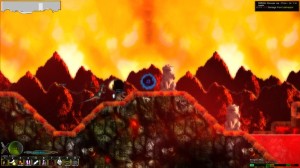 However that doesn't mean that A Valley Without Wind isn't fun. You get to explore a huge world, with many different enemies and all the time of the world in your hands. What makes things even better is that Arcen Games is very involved with their community and keep everyone informed on what they are currently working on. They have promised to frequently update A Valley Without Wind with additional content, and various improvements and they kept their promise. As of today they have release more than 5 updates after the game was released.
A Valley Without Wind is available on Steam, Gamersgate, and Arcen Games' webstore, for both Mac and PC at a retail price of $14,99.
Gameconnect Rating: 8.0