Sega today announced that Company of Heroes 2, the strategy game from newly acquired Relic Entertainment, slated for an earlier release in 2013, is now scheduled to launch on PC on June 25th, 2013 in North America and Europe.
According to the press release the reason for the delay is that Relic Entertainment is using the additional time to help Company of Heroes 2 meet the high standard set by its predecessor. Released on the PC in 2006, Company of Heroes is one of the highest rated strategy games of all time ( The game holds a Metascore of 93% based on 55 reviews on Metacritic.com and and is currently the highest rated strategy title on Gamerankings.com (with more than five reviews), with an average of 93.82% based on 56 reviews).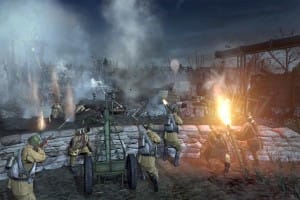 "We hate to disappoint our fans with a later than expected date as we know they are eager to play but we feel that the additional time will help the team deliver the high quality sequel fans deserve." commented Greg Wilson, Producer of Company of Heroes 2.  "However, the wait won't be long as players will soon be able to help us test and balance multiplayer in the upcoming Closed Beta. Details will follow shortly."
Jonathan Dowdeswell, Executive Producer of Company of Heroes 2 commented "Our acquisition by SEGA has given us the chance to work with a new partner that has a great track record of working with long standing PC franchises, It gives us great confidence to know that we have a well aligned team working to bring the best experience we can to gamers around the world."
Powered by the Essence 3.0 Engine, Company of Heroes 2 wants to bring tactical strategy to life like never before, thanks to a realistic ColdTech weather system, a revolutionary dynamic line of sight system, TrueSight and realistic destructibility.