Hidden Path Entertainment informed today that it has raised the funds needed to make Defense Grid 2. On July 10, 2012 Hidden Path launched its Kickstarter Campaign to fund new content for its highly acclaimed tower defense game, Defense Grid – The Awakening, and potentially a sequel for the loved title.
Thanks to over 6,200 backers Hidden Path was able to release the expansion pack Defense Grid: Containment this past January. Now, it is pleased to announce that the Defense Grid community helped catch the eye of an investor and DG2 is successfully being developed.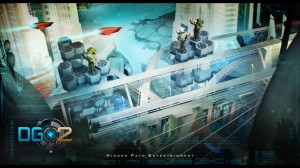 Jeff Pobst, CEO at Hidden Path Entertainment, shares his thoughts on the success of the campaign, "Through the DG2 Kickstarter campaign we were able to not only raise money and make more Defense Grid content, but we created a shared engagement around the project with thousands of backers for several months.  The excitement, involvement, and passion that the community displayed around Defense Grid directly helped us engage an investment partner and make DG2 a reality."
DG2 is expected to release in the first half of 2014 on Steam for Windows, Macintosh, and Linux platforms. In celebration of this DG2 announcement Defense Grid – The Awakening and select DLC will be on sale starting today through this weekend for 75% off on Steam. Defense Grid content on Steam can be found here http://bit.ly/ZKGPut.