Telltale released Poker Night at the Inventory on November 22, 2010 to much critical acclaim.The game, that featured four crossover characters: Tycho from the Penny Arcade web-comic, Max from the Sam & Max franchise, the Heavy Weapons Guy from Team Fortress 2, and Strong Bad from the Homestar Runner web series, was praised for its addictive gameplay and extremely humorous dialogues but didn't get the attention it deserved.
However Telltale knew they had a good title in their hands so on April 1st 2013, a sequel was announced. Just like the first game, players will take the fifth seat at the poker table, joining characters from games, TV, and film. These include Claptrap (Borderlands), Brock Samson (The Venture Bros.), Sam (Sam & Max), and Ash Williams (Army of Darkness). Dealing the hands will be GLaDOS from Valve's action-puzzle games Portal and Portal 2.
Just like most of the comedy games of Telltale you either get the Pythons-90's sitcom humor of the game or you just play and quit as you'll find everything in the game totally uninspiring.Those who think that the game will be a poker game simulation, should look elswhere, the same goes for those who have a problem in appreciating the Pythons-90's sitcom humor of the game.
Sound and Vision
All opponents are quite fun and their original personalities show when playing poker. Besides acting like themselves, the different characters also have various reactions and dialog specific to their own background. Each character also has his own set of taunts, gestures, and, seeing as how they're playing poker, a number of tells that will signal you when there's a bluff or when he actually has a good hand.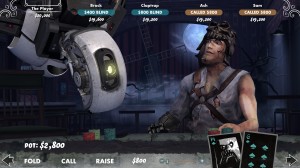 There is tons of fun watching and listening to this crazy cast interact with each other. Whether it's Brock (voiced by the one-and-only Patrick Warburton) cracking on Claptrap, or Ash telling the story of how he lost his arm in a cursed language, there's a ton of humor mixed into the script, which is something that shouldn't surprise any of Telltale's fans.