Yesterday, Sports Interactive and Sega revealed the latest installment in the highly anticipated Football Manager franchise and today they announced that the best-selling football management series is now available for pre-order via Steam.
Football Manager 2013 will bring tons of improvements and enhancements over its predecessors (Improved 3D match engine, new staff roles, improved media interaction, Worldwide leaderboards, a new Challenge mode, to name a few), however the most noteworthy, and much-needed shift in our opinion, is the introduction of the all-new Classic mode, or 'FMC'. FMC offers, for the first time in Football Manager's history, an alternative, less demanding way for players to approach the game.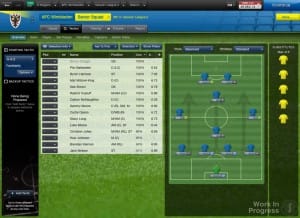 The game feels exactly the same – the manager still takes charge of a squad of players and competes at whatever level he chooses, but now a number of his responsibilities have either been taken over by their support staff or have disappeared completely. Furthermore games are played out in a quicker 'highlights only' fashion, but you can even speed this up by going straight to 'Instant Result.
Football Manager 2013 is expected to arrive on Windows PC and Mac sometime before Christmas 2012. Those interested can pre-purchase FM13 for 49,99€ from here.