A reboot of Spy Vs. Spy, the innovative two-player, split-screen game, based on MAD Magazine's long running cartoon strip, is coming to iPhone and iPad this Summer, publisher DC Entertainment has announced.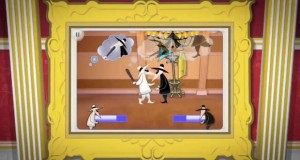 Developed by Robots and Pencils and the original game's creators First Star Software, Spy Vs. Spy lets two players compete to gather items hidden throughout a labyrinthine embassy, and lay traps for one another, making riffling through the setting a dangerous proposition.
This latest reboot will include the original eight embassies, plus 16 new ones. The graphics and soundtrack have also been remastered though the option to play with the original 8-bit visuals still exists. Also added are options for online and local multiplayer, as well as GameCenter leaderboards and achievements.
The original Spy Vs. Spy was released in 1984 for the Apple II, Atari 400/800 and Commodore 64 before being ported on the NES, Sega Master System, and Gameboy, among other platforms.