Transporting a game from its 2D environment to a 3D one is not easy to accomplish. Team 17 tried to do this with Worms Ultimate Mayhem but what the managed to achieve was just to disappoint the Worms series loyal audience. As a result Team 17 dealt with low sales and high criticism for this effort.
The developer knew they the had to turn things round for their next effort. Worms Revοlution marks a return to the games traditional 2D gameplay, with some improvements that were missing from the franchise for several years.
"Team 17 are expert at producing new content that refreshes and revitalises the brand and it is this commitment to quality that has kept Worms at the top for nearly twenty years – from our perspective as a licensing agent it also means that any merchandising lines are able to tap into a massive fanbase that is constantly being added to as new players discover the game", said Simon Kay of publisher AT New Media at the game's launch on October 10th 2012.
These refreshing elements in the series come in the shape of dynamic water, physics, worm classes and some new weapons, but are they any good to satisfy the IP's fans and attract new players on its wagon?
Sound & Vision
As we already said the biggest change in Revolution comes in its graphics. The game is based in the classic 2D arcade gameplay of the series but is makers tried to bring this to the new era with celshaded touches resulting in a 2.5 atmosphere which adds depth to the screen and re-news the franchise's looks.
Compared to previous Worms games static objects are now part of the landscape. Physics objects can be destroyed and they have extra properties when some of them are destroyed. For example you can have a lighter that explodes, test tubes which expel poison and also water bottles that can blow up and produce water. There is also a brand new water system which very realistic; The water in Worms Revolution. The water affects the worms and the push force, everything is dampened under water and it's very difficult for the worms to move around and even jump out of water.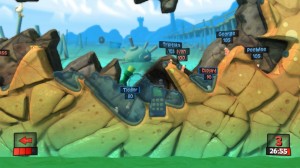 These are all great improvements however we feel that Team 17 should have paid more attention in the game' environments which feel a bit empty and simplistic. It's not that bad but it still can't reach the heights Worms 2: Armageddon reached in terms of variety. The voices the worms have are interesting like usual, and the narration by Matt Berry is great. His voice work as a researcher of the worms is great, and will bring a laugh on most levels.