Daedelic Entertainment the indie developer and publisher based on Hamburg, Germany, have become synonymous with quality adventures games. 2012 has seen the studio in great form as they have released  three titles so far, Deponia, The Dark Eye: Chains of Satinav, and the most recent Chaos on Deponia, while they are about to finish developing their fourth adventure title, The Rabbit's Apprentice.
The fact that Daedelic gave us three, great in our oppinion, adventures titles in this short period of times  drew comparisons with the good old days Lucas Arts, something not far from the truth, and also showed us that there is still a big audience interested in the adventure genre.
Daedelic's latest effort is Chaos on Deponia, the second part of the Deponia trilogy launched on November 5th, just 5 months after the first part. We could say that this is almost and episodic series, if each episode didn't last for 10-12 hours.
"For Deponia we had more than 20 people who did the art. Backgrounds (only one person), Character & Background Animation (more then 15), character design (one person), concept art and animatics (1-2 persons). We started to work on Deponia in 2008, right after our first hit in germany. Finally we found a partner for the game in Germany who made it possible to start the full production. Normally we would need 18-24 months for such a game. But for Deponia 2 we had a very good and looooooooong pre-production, so we decided to try to bring out the three Deponia-titles as fast as possible. The second one will be 50% bigger than the first one and we produced it only in 8 months, but with many many people" said Carsten Fichtelmann,  CEO Daedalic, for their decision to release the Deponia sequel in such short notice.
Deponia received generally favourable reviews with someone calling it a fantastic adventure game, featuring some extremely intelligent riddles that require deep thinking. Can Chaos on Deponia, which is self branded  crazier than the first game, match the unparalleled charm of the original Deponia?
Sound and Vision
Graphically speaking once more you be surprised by the exceptional job Daedelic has done in that area. In Daedelic-style everything has been beautifully designed on paper leaving and you can really feel the energy the developer put in that in every area in your screen. This time around the planet of Deponia has been significantly improved with new weird locations and characters each boasting with his own unique style.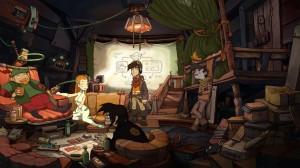 What also impresses in Choas is the superb voice-acting in the game, something which was not Daedalic's trademark in most of their titles. The number of actors participating have truly understood their role and this shows. The only issue with this series is some mismatch between audio and subtitles but it barely takes away from the experience since it only happens once or twice.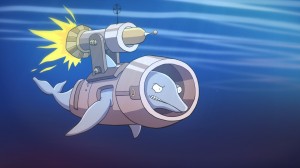 The main musical themes from the first game remain the same, but there are some new pieces of music added to help bring some of the new areas visited in the game to life. Music is atmospheric and occasionally joyful, definitely fitting the tone for a game that has you wandering around beautifully drawn environments for hours.