Ludum Dare (to give a game in Latin) was founded by Geoff Howland, and held it's first competition in April 2002. The latest competition was the 25th , and was held from December 14th until the17th, 2012.
Ludum Dare 25, once again attracted developers from all sides of the industry, students, hobbyists, industry professionals from many well respected game studios, as well as many independent game and saw a whopping 1327 participants.
For Ludum Dare 25 the game theme these talented developers had to illustrate in their efforts was You are the Villain. Participants who submitted a game have been given 3 weeks to play and rate games created by their peers, and the results were tallied. Over the next pages you'll find everything you wanted about the games that won.
Atomic Creep Spawner!! by deepnight
The game that won the gold metal in the 48 hour jam was Atomic Creep Spawner!! by deepnight, (Sebastien Benard) a household name in Ludum Dare competitions. The game brings an excellent audio/visual direction, very approachable premise, and a great general feel and theme.You play as an evil overlord, apparently, who has evil orbs that the hero attempts to get through your dungeon to destroy. There are only a couple levels, but for what's here, it looks and plays quite well.
Extinct : Humankind fade in the mist – Benjamin
Extinct : Humankind fade in the mist by Benjamin is the silver medal winner of Ludum Dare 25. In this beautiful puzzle game you have to drag and drop traps on the road of the human tribe so they can never reach the meat. As humans always find the best solution to reach meat, you have to find a way to build an unbeatable puzzle.
End Boss is a bullet hell game reversing game-mechanics latting you play from the villain's frame. You are a spidery big End Boss which must squish that pesky little player ship. What should be be aware of is that the "hero" gets stronger as time goes by, so you should not allow power-ups. The game can also be played on your PC via an Xbox-controller, if you don't have one keyboard is also fine. (Controls on gamepad is: left thumbstick to move. X, A, B to shoot and Y to defend.)
Happy Little Murder Friends by farmergnome
Happy Little Murder Friends by farmergnome was the game that also won the bronze metal in the compo. In the game you get to choose between 5 serial killers, each with there own perks and an array of weapons and fetishes to help your rampage. Target kill highlighted victims in each town, reach the kill quota to unlock the next town but avoid murdering people who aren't your target as it will alert police.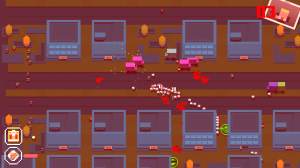 Jam Winners

Ore Chasm – Black Ships Fill the Sky 
The winner of the more relaxed Jam competition is Ore Chasm by Black Ships Fill the Sky. The game is quite innovative for Ludum Dare entry as it supports multiplayer. In terms of gameplay Ore Chasm is a game about shooting lasers and mining ore in beautiful unspoilt mars.
Dr. Vile in The Greater Good – GreenPixelDev
Dr. Vile in The Greater Good is about Dr. Vile, the most despised mad scientist in the world, who has one mission in life: become #1. He'll do whatever it takes to win the respect and adoration of every person on Earth – even if he has to kill everyone on Earth. You control Dr. Vile and his AI companion, Lexe, on a quest to build the most powerful Death Ray mankind has ever seen. You use the arrow keys to move Dr. Vile.- Press X to swing your bat (perfect weapon for an evil genius, eh?). Your bat can bash objects – such as trees, cars, TVs, and more – that will break into the parts you need to complete the Death Ray. -Press C to use your Stun Gun. This will temporarily stun townspeople. It does have a cooldown period, though. Press SPACE BAR to open/close the Inventory menu and see what parts you need to complete the Death Ray. This also pauses the game.
The Fall of Mr. Wily – StoneMonkeyStudios
According to StoneMonkeyStudios The Fall of Mr. Wily This was made from scratch in 72 hours
and in these 3 days they managed to create a game that involves lots of smaller games in a sort of story arc.The gradual shift in good to evil where you can destroy anything, just like the movie Falling Down, really makes the player attached and the humor is subtle. The attention to detail, such as the variety in the cubicles, is also quite nice.
Conclusion
We may had a look at the top rated entries but the truth is that everyone who gets involved in a Ludum Dare competition, from the event organizers, and game developers to players and those who rated the games, is the actual winner.
What impressed us the most, besides some very high quality games that were created in just 48 or 72 hours, is that there the interest for the competition doesn't wear out. The 21st competition had 599 entries, Ludum Dare 22 had 719, Ludum Dare 23 highlighting the competition's ten-year anniversary, broke all records and brought us more than 1400 games and so did Ludum Dare 24. LD 25 with its 1327 Games was equally successful, and proved that the competition remains of high interest among these talented indie developers.
Those of you who want to take a closer look at the results can check the Top 50 entries into the main Ludum Dare competition here and the same for the Jam event here .