Fishlabs, the Hamburg-based developer and publisher, is working on a new Free-2-Play MMO with real time strategy elements set in the Galaxy on Fire universe. If all goes as planned, Galaxy on Fire – Alliances will be released on the App Store later this year. It will be optimized for all current models of the iPhone, iPad and iPod touch.
"Never before in the eight years of our existence have we worked on a title with a team as big as the Alliances team," says Michael Schade, CEO of Fishlabs Entertainment. "Free-2-Play is an incredibly exciting and promising market for mobile developers and we're really eager to create a premium-quality F2P title, which includes all the features and characteristics that have made our previous titles so unique and successful. As you can imagine, this is not an easy task, but we've got a team of highly experienced and talented industry specialists assigned to the development of Alliances and the playable alpha version of the game does already look pretty amazing."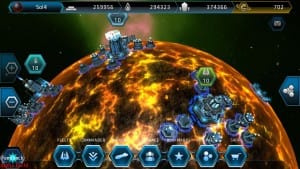 According to the press release "the events of Alliances take place in a remote and hitherto unexplored part of the universe, where valuable resources and ancient artifacts are expected to be found. In order to gain access of these riches, the most powerful factions of the galaxy, namely the Terrans, Vossk and Nivelians, order their best commanders to build an outpost on that out-of-the-way star cluster and claim dominion to that yet-to-be-acquired sphere".
Galaxy on Fire – Alliances is being developed with the aid of Fishlabs' proprietary ABYSS 3 engine and is scheduled for release in Q3 of 2013.