Arkane Studios, which gave us the ambitious but problematic Dark Messiah of Might and Magic and also helped in the development of the expeptional Bioshock 2, is a very ballsy developer  as in an era filled modern-day blockbusters  releases an old school single player only game, with no explosions, slow motion scenes, or an open world to impress.
Instead you're given a series of handcrafted missions with enough twists and turns, each with a start, a middle and an end. "The boldest measures are the safest" writes a message just before the cinematic opening of Dishonored begins. And you should make no mistake: Dishonored, starting a supernatural cutthroat Corvo, is a game fuelled by bold measures.
"We wanted to create a very physical first-person action game that encourages players to play the way they want by providing them with versatile game systems"  said Raphael Colantonio, President, Arkane Studios. "We've watched gamers play  Dishonored at consumer events and we've seen some amazing gameplay choices and power combinations. We're very proud of our development team's final product, and excited to see the game in the hands of gamers."

"The team at Arkane Studios set out to create an original game with a deep story, set in an immersive world, full of player choice…and they have delivered on all aspects," said Vlatko Andonov, President, Bethesda Softworks. "We couldn't be more proud of Dishonored and can't wait for fans to finally get their hands on it."
Dishonored was released worldwide in October 2012 for Microsoft Windows, PlayStation 3, and Xbox 360 to much acclaim as many people stated that Dishonored may be the best game since Half-Life 2 came out. In this review you can find out wy we totally agree with them.
Sound & Vision
Powered by the Unreal Engine 3 Dishonored is shockingly beautiful. The city of Dunwall manages to mix the steam punk aesthetic with the moody Victorian settling reminding somehow of a steam-punk version of City 17, something that doesn't come as a surprize, as the man who designed it is Viktor Antonov,the same man who as Valve's art director designed City 17 for Half-Life 2.
There is a lot of detail in the environment offering true sandbox-style gameplay to allow execution of objectives to suit your gameplay style, and if we could make a complain this would probably be the low resolution of textures in the walls and the floor. On the other hand the rest of the effects, the smoke, the lighting, the rain, and water mirroring seem to work just fine.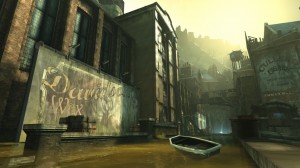 Soundwise Dishonored relies on the musical textures of Daniel Licht, better known for his work in Dexter, and Silent Hill: Downpour. Music is atmospheric, mostly executed by a piano. Music plays a significant part in the game, as it alerts us when something seems that will go wrong in the game.
Dishonored also impresses for its renowned and award-winning ensemble of actors, and the quality of the voiceover executed by Academy Award winner, Susan Sarandon ("Thelma & Louise," "Dead Man Walking"), Golden Globe winner, Brad Dourif ("The Lord of the Rings" trilogy, "One Flew Over the Cuckoos Nest"), Emmy Award nominees Carrie Fisher (original "Star Wars" trilogy) and John Slattery ("Mad Men"), Michael Madsen ("Thelma & Louise," "Reservoir Dogs," "Kill Bill") and Lena Headey ("300," "Game of Thrones"), cannot be doubted.