Announced in July Steam Greenlight is the new voting system that allows developers to submit their game to the community for approval where if the Steam community overvotes a title then this is being added to the Steam catalogue.
The Steam Greenlight website provides a forum space for fans to voice opinions about particular games, or the Greenlight process. Just like any game on Steam by clicking on any title a page where a slideshow showcases game photos and video, and a sidebar provides genre, platform, language, and players information, as well as an overview written by the game maker team.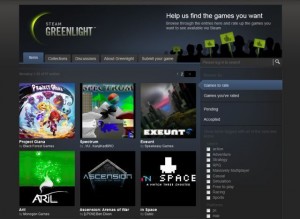 In Greenlight you will find games for PC and Mac, single-player, multi-player, and cross-platform multiplayer games in a number covering a wide range of genres, including action, strategy, RPG, casual, simulation, free-to-play, and sports.
As there are hundreds of entries for gamers to browse and rate the titles they want Steam to make available for future game play we decided you to give you a helping hand and present you 5 titles which we feel deserve your vote.
Primordia
Primordia is a new a post-apocalyptic cyberpunk adventure game, developed by Wormwood Studios and published by Wadjet Eye Games (Gemini Rue, Resonance and the Blackwell series), which promises to combine the challenge and depth of the classics with a streamlined interface and a player-friendly design.
The game which will feature over 50 hand-drawn environments, painted cutscenes, and dozens of characters, tells the story of a robot named Horatio, voiced by actor Logan Cunningham of Bastion and Resonance fame, who leaves his home in the city of Metropol to wander the desolate wastelands accompanied by a a sarcastic floating sidekick named Crispin Horatiobuilt.
According to Wormwood's official site, Primordia will feature puzzles that emphasise on "logical thinking and exploration, rather than trial and error or endless backtracking".
Dark Matter
Dark Matter developed by InterWave, creators of the FPS/RTS hybrid Nuclear Dawn, is a side scrolling platformer that will offer exploration, branching upgrade paths and levels that open up as you acquire new equipment. Dark will give gamers motivation to go back and revisit old locations allowing them to unlock more and more resources and blueprints in a way similar to Metroidvania games.
In Dark Matter, you are low on resources and health, your enemies are very powerful and even the simplest critter can kill you with ease, if you let them catch you unaware.You must carefully decide whether to craft yourself ammo, or health, or weapon upgrades, and once you commit resources to one of those, you won't be able to go back on your decisions easily.
There are also influences from Silent Hill and Resident Evil, where there is a lot of action, and a lot of exploration, but the sense of impending doom never quite leaves you, because you can't be quite sure what's coming out of the shadows next. Vote for Dark Matter over here.

Incredipede
Incredipede, the latest from globe-trotting developer Colin Northway is an imaginative puzzle game with unique mechanics about creating life and exploring how creatures move.
Colin had found somewhat overnight success with his very first Flash game, Fantastic Contraption, now a multi-platform powerhouse in its own right, and the truth is that Incredipede doesn't fall too far from the Contraption tree-of-knowledge, as it were, still apparently being primarily concerned with creating ambulatory creatures that traverse from one side of a level to another.
In this game you must help Quozzle, a spider-like creature, find her sisters by solving a succession of puzzles. There will be obstacles on your way, but Quozzle has the amazing ability to grow arms and legs wherever she wants. Add an extra limb to climb higher or an extra muscle to get over a hole and much more.
Theere are has 60 levels set in three different worlds but players can also create their own levels and share them online. Those unsure should definitely try the broweser demo from here and then give it your Greenlight vote.