The '80s are totally back and Nintendo is embracing them with the Nov. 11 launch of the Nintendo Entertainment System: NES Classic Edition system, which includes 30 classic NES games such as Super Mario Bros., Metroid, Donkey Kong, The Legend of Zelda, Kirby's Adventure and PAC-MAN. But it's not just the launch of this awesome console that'll crimp your hair and tight roll your jeans.
On Nov. 10 and Nov. 11, its social media channels will go completely retro to a time when "social media" involved trading passwords and game tips on the school bus and on launch weekend (Nov. 11-13), Nintendo is also bringing back its righteously nostalgic Power Line for three days only.
"Many of us have fond and wonderful memories of the original NES," said Doug Bowser, Nintendo of America's Senior Vice President of Sales and Marketing. "With these launch activities for the NES Classic Edition, we want to replicate the nostalgic feelings of sitting down and playing the NES with your family for the first time."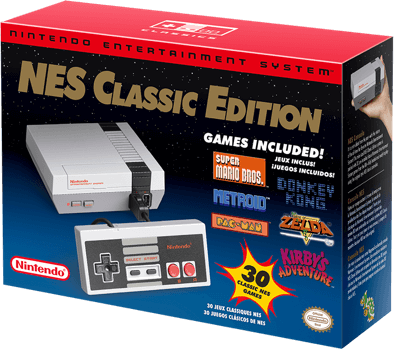 To kick off the launch, Nintendo will host a "Remembering #NESterday" social media takeover starting on Nov. 10. By using the #NESterday hashtag, Nintendo fans will be encouraged to share fond Nintendo gaming memories and even present-day photos with their old NES consoles. Some of these photos will be shared on Nintendo's social media channels, and people will also be able to participate in a Twitter sweepstakes that will be just as tubular as you might expect.
On the night before the launch (Nov. 10) starting at 9 p.m. ET, Nintendo invites you (and anyone who wants to party like it's 1985) to the Nintendo NY store for an '80s-themed NES Classic Edition event. The first 250 visitors can play classic NES games, participate in a costume contest dressed as their favorite Nintendo characters or '80s icons, and show off their NES knowledge in the ultimate retro Nintendo game show. When the clock ticks over to midnight on Nov. 11, the one-handed gloves come off and the NES Classic Edition will be available to purchase, while supplies last.
While playing one of the 30 great NES games included on the NES Classic Edition during the weekend following the Friday launch, you might find yourself puzzled by some of the more challenging games. ("How do I find the first Warp Whistle in Super Mario Bros. 3?" you might ask yourself.) If your memories of the original games fail you, no need to fret. You can just call the Power Line, which will return and run from Nov. 11 to Nov. 13, between the hours of 6 a.m. to 7 p.m. PT each day. The original Power Line was a beloved service in the '80s that connected fans to Nintendo Game Play Counselors who offered helpful tips and tricks. In this fully automated version, you can use your real-life phone (bonus points if it has a cord!) to dial (425) 885-7529 to hear recorded tips for several games, plus behind-the-scenes stories from original Nintendo Game Play Counselors. You never know what you might learn!
With 30 great NES games, a replica of the original NES controller, three display modes (including one that makes your fancy hi-def display look like a retro tube TV) and Suspend Points for easy on-the-spot saving, the Nintendo Entertainment System: NES Classic Edition is a great value at a suggested retail price of only $59.99. The stocking-sized console launches on Nov. 11.
Checkout all the info you want on Nintendo's Classic website.