Jim Walls Reloaded, Inc., the new independent game company headed by Sierra veterans Jim Walls and Robert Lindsley, today announced a new police adventure game, Precinct. As a spiritual successor to the wildly popular Police Quest series, Precinct aims to bring back the classic Sierra-style adventure formula and update it into a modern police adventure.
"Like the original Police Quest series, Precinct let's people see what it's really like to be a police officer," said Jim Walls, CEO of Jim Walls Reloaded, Inc. "With today's development tools and technology, I can finally deliver the type of experience that I've always wanted to. I want Precinct to rekindle the feeling of classic adventure games while delivering a cutting edge police adventure to a whole new generation of gamers."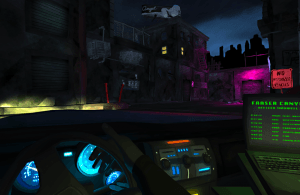 Precinct takes the player on a realistic police adventure through the mean streets of Fraser Canyon.  Assuming the role of Officer Maxwell Jones, the player will take on the many challenges facing police officers today. Written by famed adventure game designer Jim Walls (Police Quest, Codename: Iceman) and some of today's brightest Hollywood talent, Precinct features a gripping crime story based on true accounts of real police cases.  Playing in the first-person perspective, Precinct's real-time 3D environments and gameplay deliver significant realism to the classic police adventure style Jim is famous for creating.
"Fans have been asking Jim to create a new game for years, so I'm really happy that he's decided to do this," said Robert Lindsley, President of Jim Walls Reloaded, Inc. and Executive Producer of Precinct. "As a founding father of the adventure game genre, he has the ability to truly deliver that classic adventure style. And with additional talent that includes both Sierra and industry veterans, we can mix the old and new to ensure that the story, colors, characters, animation, design and of course the gameplay meet modern expectations."
Precinct is planned as a five games series, with the first game being released in Q3 2014. Precinct will be released as digital download for PC and Mac with distribution across platforms such as Steam and www.precinctgame.com.
To raise funds for the project and ensure full creative freedom, the team has launched a new Kickstarter campaign with a $500,000 development funding goal: http://www.kickstarter.com/projects/precinctgame/precinct