Kim Swift is considered to be one of the most creative indie game developer of our era. She designed Valve's highly original Portal game and won Game of the Year and Innovation awards in 2007 at the Game Developers Choice awards. Swift also worked on Left 4 Dead and Left 4 Dead 2. She left Valve in December 2009 to work for Airtight Games and began work on Quantum Conundrum, a Portal-like physics game with a sense of humor.
"We wanted to create a fun, quirky puzzle game that anyone would want to play, regardless of age or gaming experience," said Kim Swift, Creative Director at Airtight Games during the development of her game. "I've been working with an amazing and collaborative team on this project and look forward to coming into the office every day to hear new ideas, see what everyone has created, and dive in on my own pieces of the game. We've created something that we're all extremely proud of and hope that people will enjoy playing it as much as we are making it."
Kim Swift's game was one of the most decorated titles at E3 2012 in Los Angeles, Quantum Conundrum earned recognition as one the show's top games, including 13 media nominations and awards for Best New Franchise, Most Innovative, Best Puzzle Game, Best of Show, Best Platformer, Best Original Game and Most Valuable game from various outlets.
"Quantum Conundrum is one of the most innovative, thought-provoking games of 2012 from one of the great designers of our industry, Kim Swift," said Mike Fischer, president and chief executive officer of the game's publisher, Square Enix, Inc. "We're proud to launch the next evolution of puzzle games and we're anxious to see how gamers react."
With so much hype going on Quantum Conundrum everyone was wonering if this creative puzzle game is of the same calibre as its inspirational predecessor at Valve. There is only one way to find out. Read on.
Sound & Vision
The artistic take on everything, from chairs to portraits, does a good job of emulating a typical Saturday morning cartoon. Level design is a bit repetitive, and the various stages share a lot of the same elements. This was also the case with Portal, but Valve's game succeded in bringing the right atmposphere. Sometimes you'll experience screen tearing and frame drops to the point that you'll be wondering what takes the next level so much time to load, only to find out that it's just a new room, with some small decorative changes.
What satisfies the most is the visual representation which is amazingly great. Everything object has its own unique look in the 5 different dimensions including the original dimension. Additionally various portraits throughout the game will change when you shift dimensions, and they give a distinct feel to the dimension you're in currently.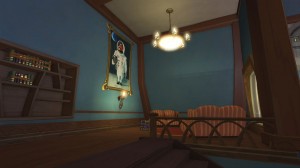 The music, written by Chris Ballew, a twice Grammy nominated songwriter and lead singer for the four times platinum rock and roll band The Presidents of the United States of America, goes for something more serious, and sometimes a little sinister. Even so it manages to stick with the action and doesn't disturb you from the puzzle-solving process. The ever-present voice of your uncle, delivered by John de Lancie best known for his role on Star Trek as Q, is at turns hilarious, sarcastic, acerbic, and informative.