Stormthrone: Aeos Rising will enter Open Alpha testing on November 19th, 2014 at 10:00 AM EST. R2Games welcomes players from across the world to prepare for battle on the Stormthrone site, where registered users have less than a week to gather minigame points to exchange for valuable Bound Pyrum codes.
Stormthrone is an expansive, full-featured free-to-play browser MMORPG set in a vibrant fantasy world besieged by evil. Published by R2Games and developed by Mokylin, Stormthrone challenges players to choose from three races and six classes to create the ultimate hero.
https://www.youtube.com/watch?v=16f9djn0SSM
Complementing the tactical abilities of each class are the Aeon Weapons, an ever-expanding roster of artifacts empowered by the gods. With solo quest content, challenging co-op adventures, massive cross-server PvP events, the Four Realms – vast hubs connecting players from across the world – and an unforgettable orchestral soundtrack, Stormthrone brings unprecedented depth to the world of browser MMOs!
The war for Aeos promises to send shockwaves through the crowded browser marketplace. Stormthrone's six classes – Warrior, Rogue, Paladin, Mage, Priest, and Hunter – are truly distinct, and mastering their combat roles will challenge MMO veterans and new fans alike. In free-for-all PvP and solo quest lines, maximizing strengths and mitigating weaknesses is the name of the game. In co-op dungeons and team PvP, on the other hand, understanding class synergies is the key to victory.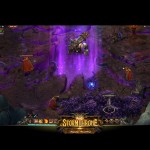 Stormthrone's newest
minigame
, Stormthrone
Switch
, gives players the opportunity to improve their Alpha experience with a classic test of memory. Flip cards over until the entire level is matched before time runs out to earn a gold medal and 300 points! A new level will be released each day until
November 19th
at
8:00 AM EST
, when players can exchange their accumulated points for the following Alpha prize codes (first come, first serve; limit one per user):
·         500 Points for 500 Bound Pyrum
·         1200 Points for 1000 Bound Pyrum
·         2600 Points for 2000 Bound Pyrum
More info may be found on the Stormthrone Website.