Unmechanical, is an award-winning 2.5D side-scroller that started in early 2011 as a student project at Futuregames, a game development education in Stockholm, Sweden. Very soon about half the Unmechanical team joined additional enthusiasts from the school and started Talawa Games.
According to a blurb on Talawa Games' website The Unmechanical team has doubled in size since the beginning, but has always been about a tightly knit team that collaborates rather than delegates. Most work has been done on the students' free time, both during school and the following internships when the team was spread out across Europe.
"Unmechanical has been about taking on something for real and working our fingers to the bone to get it done. It's our hopes and ambitions combined into this very personal, unique, and awesome adventure that's crafted with lots of love." Said Marko Permanto, project lead for the Unmechanical team.
Unmechanical launched on Steam and gog.com on August 8th 2012 for PC and is also expected to launch on iOS devices in the near future. Can Talawa Games' effort stand from the crowd of the great independent puzzle games released this year, like Botanicula and Quantum Conundrum?The answe lies in the following pages.
Sound and vision
Developed using the Unreal Engine Unmechanical is a fun and good looking game, a 2D platformer combined with 3D environments that are always transformed as you progress in the game, making making the world appear larger than it really is and forcing you to stare at while you're working out the puzzles. The use of the lighting mechanics in the game is awesome especially when you are required to carry an orb into almost total darkness.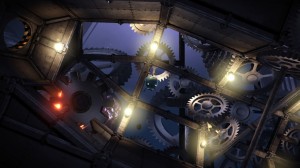 The music on Unmechanical suits the game perfectly and is what you would expect from a tiny robot and a tractor beam, feeling a bit like a cross of Daft Punk if their main influence was the Vangelis'Blade Runner. It's a very good soundtrack, but no so good that you could listen to itapart from the game. If for some reason the music won't appeal to you then you can tune it out while you're trying to figure out the puzzles.
Gameplay
Unmechanical begins with a twist of fate as you're spirited away by a network of coiled pipes into a mysterious underworld. You play as a Wall-e like little robot with a propeller attached to its head, which allows you to fly around the game's levels at will, trapped in a strange environment that pulsates from mechanic and organic machinery alike. Your quest for freedom requires you to solve a great variety of puzzling challenges, and while it's easy to pick up and play, but be warned later challenges may prove very difficult indeed.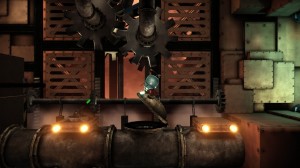 Unmechanical feels and plays a lot like a mix of Insanely Twisted Shadow Planet and Amanita's Machinarium. It is a standard platformer, with emphasis on physics puzzles, which may be built around familiar mechanics that everyone should recognize, they walk a careful line between trite and intriguing.
The game features more than 30 unique puzzles, including logic-, physics-, and memory- oriented challenges and as you would expect the early stages of the game make up for the predictable puzzles, but as you steadily progress the difficulty increases. The biggest part of Unmechanical consists of the physics based puzzles where you have to move or combine objects, even though the are a big portion of the game, gamers will never get tired of them as they are not repeated. One of the more complex puzzles involves reflecting laser beams by manually moving mirrors and positioning them in such a way that the laser will reach its goal. Most of the puzzles seem creative and offer some unexpected solutions.